Teach NJ unites New Jersey's Jewish community by advocating on behalf of nonpublic schools. We have launched a nonpartisan civic engagement pilot program to encourage Teaneck residents to vote. The more we vote, the more elected officials listen to what's important to us. As a nonprofit organization, Teach NJ conducts all voter activity on a strictly nonpartisan basis, endorsing no candidates or parties. We hope you will heed the call and encourage friends and family to register to vote, vote by mail, or make it to the polls for EVERY election.
Get out and vote.
All voting for the May 12th Teaneck municipal election will be by mail. There will be no voting at the polls.
You will soon receive a mail ballot for the May election, which you can complete and send back with no postage required.
Make sure to cast your vote.
Take two minutes to sign up for essential election updates at teachnjs.turbovote.org.
Make your voices heard.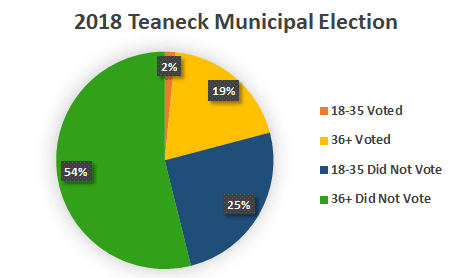 Less than 9% of voters 18-35 in Teaneck vote regularly. We can do better!
On average, only 50% of registered voters above 35 vote in municipal and state level elections.
Life is hectic and the unexpected happens. You can vote early and from the comfort of your home. Register to vote-by-mail (formerly known as Absentee ballots). You'll receive a ballot for every eligible election.