Teach NJ, a division of the Teach Advocacy Coalition, was founded in 2015 to advocate for equitable government funding for New Jersey's nonpublic schools. We have secured an additional $100 million in funding for day schools, which is used to increase security, enhance education and defray higher tuition costs. Approximately 170 day-schools and yeshivas receive support through Teach NJ efforts.
Our Goal
Our goal is to secure parity in funding for all nonpublic school students who comprise 10% of the population and receive less than 1% of state education funding. Since the inception of Teach NJ, we have secured over $142 million for nonpublic school students in New Jersey. Our activists and staff work to lobby for state funding of nonpublic schools across a range of areas that include security, nursing, and technology.
What We Do
Policy Development and Advocacy
Teach NJ works to advocate for parity in the funding of services with a focus on security, technology and nursing. Teach NJ and its activists work to educate, cultivate and develop meaningful political relationships with state legislators and the Governor. The current funding level is $40 million.
Security Funding
Three years ago Governor Christie signed into law the "Safe Schools for All Children Act" which provides security funding for all nonpublic schools.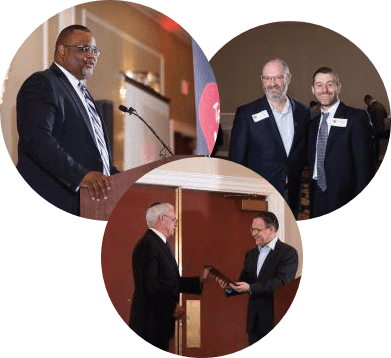 Nursing Services
Our goal is to provide universal healthcare services to all students. However, nonpublic schools must provide supplemental funds to hire full time nurses.
Technology Aid
Since the inception of Teach NJ, $18 million of technology aid has been secured.
Grassroots Activism
Our network builds sustainable relationships with schools, houses of worship, and community by actively engaging and having a voice around policies to ensure that all children in the state of New Jersey receive equitable funding.

We advocate for 150,000
nonpublic school students across all religious and secular nonpublic schools.
Together with our coalition partners, we engage communities from Bergen to Cape May County, covering over 40 legislative districts.
We cultivate grassroots advocates in schools, houses of worship, coalition partners and the community at large.
We engage a network of nonpublic schools across the state.
Our Leadership
Sam Moed,

Englewood

Yehuda Blinder,

Englewood

Eric Fremed,

Teaneck

Ralph D. Hanan,

Deal

Nathan J. Lindenbaum,

Teaneck

Leslie Ostrin,

Highland Park

Cheryl Weiner Rosenberg,

Englewood

Barry Sklar,

Bergenfield
Our Team
Renee Klyman
Grassroots Director, Teach NJ
Katie Katz
Executive Director, Teach NJ